ABOUT THE CLUB
PRESS RELEASES
October 7, 2021
HAWAII'S BETHLEY IS BRONKO NAGURSKI NATIONAL DEFENSIVE PLAYER OF THE WEEK
DALLAS (FWAA) – Safety Khoury Bethley intercepted two passes, one of which set up a game-tying touchdown drive, to go with nine tackles and a sack in leading the Hawaii defense and a come-from-behind 27-24 win over No. 18 Fresno State. For having a hand in three of Hawaii's six takeaways in the school's first win over a ranked team since 2010, Bethley earned the Bronko Nagurski National Defensive Player of the Week honor for games of the weekend of Oct. 2, as selected by the Football Writers Association of America.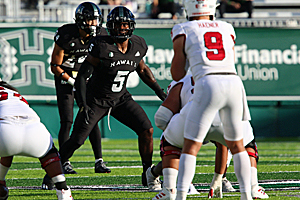 Hawaii's Khoury Bethley (Hawaii Athletics)
This is the first time for a Hawaii player to earn this weekly honor. Bethley will be added to this season's Bronko Nagurski Trophy watch list.
Bethley's first interception stopped a drive in Hawaii territory just before the half and the second led to Hawaii's game-tying drive. Then with the score tied at 24, Bethley's strip-sack of Fresno State quarterback Jake Haener near midfield set up what would be the game-winning field goal to end a 13-game losing streak to ranked teams. Hawaii's last win over a ranked team came on Oct. 16, 2010, a 27-21 defeat of No. 19 Nevada.
The 5-10, 200-pound senior from Chino, Calif., tied for the team lead with nine tackles against Fresno State and is now tops on the Rainbow Warriors with 38, including 29 solo stops. His 5.0 tackles for loss and 3.0 sacks also lead Hawaii and he had another strip-sack in a Sept. 25 win at New Mexico State that led to a Hawaii touchdown drive. Bethley has 16.0 tackles for loss in his 44 career games, and Saturday marked the second time he's had two interceptions – the other came in the 2019 Hawaii Bowl against BYU. He led the team in tackles (83) and solo wrap-ups (61) in 2019 and was second in 2020 with 70.
Hawaii (3-3) is idle this week. The Rainbow Warriors play at Nevada on Oct. 16.
Each Tuesday during the regular season, the FWAA has selected a Bronko Nagurski National Defensive Player of the Week since 2001. The FWAA and the Charlotte Touchdown Club will announce three finalists for the 2021 Bronko Nagurski Trophy on Nov. 17. The national defensive player of the year will be chosen from those finalists who are part of the 2021 FWAA All-America Team and presented with the trophy at the Bronko Nagurski Awards Banquet presented by LendingTree on Dec. 6 at the Charlotte Convention Center
The FWAA has chosen a National Defensive Player of the Year since 1993. In 1995, the FWAA named the award in honor of the legendary two-way player from the University of Minnesota. Nagurski dominated college football then became a star for professional football's Chicago Bears in the 1930s. Bronislaw "Bronko" Nagurski is a charter member of both the College Football and Pro Football Halls of Fame.
Founded in 1941, the Football Writers Association of America consists of journalists, broadcasters, publicists, photographers and key executives in all areas of college football. The FWAA works to govern media access and gameday operations while presenting awards and honors, including an annual All-America team. For more information about the FWAA and its programs and initiatives, contact Executive Director Steve Richardson at 214-870-6516 or tiger@fwaa.com.
About the Charlotte Touchdown Club
The Charlotte Touchdown Club is a non-profit organization founded in 1990 for the purpose of promoting high school, collegiate, and professional football in the Charlotte, N.C., region. The club's activities and services focus community attention on the outstanding citizenship, scholarship, sportsmanship, and leadership of area athletes and coaches. Since 1990, the club has raised and donated nearly $3 million to benefit area high school and collegiate athletics. For more information, contact John Rocco (704-347-2918 or jrocco@touchdownclub.mysites.io). The official website of the Charlotte Touchdown Club is touchdownclub.mysites.io.
About LendingTree, Inc.
LendingTree is the nation's leading online marketplace that connects consumers with the choices they need to be confident in their financial decisions. LendingTree empowers consumers to shop for financial services the same way they would shop for airline tickets or hotel stays, by comparing multiple offers from a nationwide network of over 500 partners in one simple search and choosing the option that best fits their financial needs. Services include mortgage loans, mortgage refinances, auto loans, personal loans, business loans, student refinances, credit cards, insurance and more. Through the My LendingTree platform, consumers receive free credit scores, credit monitoring and recommendations to improve credit health. My LendingTree proactively compares consumers' credit accounts against offers on their network and notifies consumers when there is an opportunity to save money. LendingTree's purpose is to help simplify financial decisions for life's meaningful moments through choice, education and support.
2021 Bronko Nagurski National Defensive Players of the Week
• Weekend of Sept. 4: Jordan Davis, DE, Georgia
• Weekend of Sept. 11: Verone McKinley III, S, Oregon
• Weekend of Sept. 18: Jared Bartlett, DE, West Virginia
• Weekend of Sept. 25: Jack Campbell, LB, Iowa
• Weekend of Oct. 2: Khoury Bethley, S, Hawaii